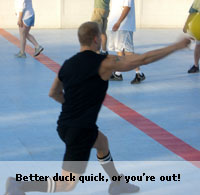 Chicago offers a plethora of sports and activities on the beach during the summer. From walking, running, and swimming, to weight training, ultimate Frisbee, and dodgeball, Lake Michigan hosts it all.
If you're like me (an ocean person), and have transported to the Midwest, then you will discover that Lake Michigan satisfies that need for ocean waters, and in most cases, offers much more than a lot of beaches across the country.
Summer sports on Lake Michigan
Dodgeball: seems the movie has brought back this age-old sport. Click here to learn more.
Volleyball: scores of nets are set up through the summer. Click here to learn more.
Swimming: complete with lifeguards along the way, swimming along the lake is one of the more popular activities.
Ultimate Frisbee: while the summer league is halfway done, you can still find some pick up games on the beach until the fall league begins. Click here to learn more.
I am sure I missed a few sports, but alas, I still have lots of ground to cover. Or, you can add your comments identifying more great summer sports.