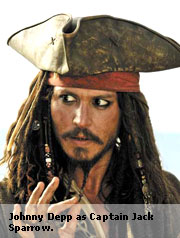 While I know it is difficult for sequels to surpass their preceding selves, I felt that Pirates of the Caribbean would put out a Terminator-like sequel. Alas, they fell short in their attempt to strike the audience's "fantasy" cord.
I know they rocked the box office, but Dead Man's Chest was less than spectacular…if it were not for Johnny Depp's starring role as Captain Jack Sparrow the movie would have been a total flop. Depp can always be counted on for his abilities as an actor, but his supporting cast failed to sell the audience, hence, I was left with, "It was aight." Note: that is slang for "alright."
Not all is lost, however. If you like great graphics, some kick ass stunts, and pirate flicks, go see it, but have no expectations…the trailer oversold the movie.
Perhaps the next Pirates will redeem itself.