The football season is here and fanatical fans, sporting the colors of their favorite squad, mob local pubs.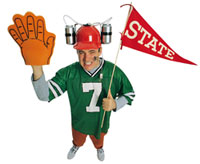 Coming from a small school, I never had the luxury of experiencing the spirit of "Big Time" college sporting events. During my own stint as a college athlete, my team was lucky to have a dozen fans in support of our exhibition. We did not have stadiums that seated 100,000 people. But, many schools do, and Chicago is home to a plethora of college grads eager to bring back the spirit of the fight.
Recently, I have experience this phenomenon at Duffy's in Lincoln Park, the official pub of the Michigan Wolverines. Each Saturday, Michigan grads and fans pile into the Wolverine shrine, ramped up to support their Big 10 team. Mayhem is the only way to describe the scene, blue and gold from every corner, a MC gets the throng riled up by offering two-for-one shots for every Michigan score, or a free beer for anyone bearing a Michigan quarter. And that's just the beginning.
Throughout the game the Michigan fight song roars throughout the dark pub, and vibrates the dozens of televisions broadcasting the game. Just in time for kickoff, the Wolverine mascot comes barreling through the patrons (I use that term loosely), and just when you thought the roar could get any louder, the crowd erupts and high-fives the hairy beast as he hustles through the maze of maize and blue.
While I am not much of a Michigan fan, I must say it was like being at the game, and the energy of the crowd was infectious, and Christmas came early this year for the Michigan fans as they crushed the famed Notre Dame Irish…quite the experience.
Now I am not condoning this sort of fanatical exhibition of team spirit…different strokes for different folks. Personally, I like to watch football in the confides of my own home, but if you are looking to rekindle your past, and bring back your college years, hit the college bars on Saturday (click here for a complete list), but do not make plans for Saturday night, while it is quite doubtful you will make it through the night.