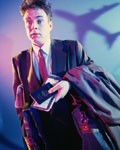 I recently took the trek to Maine to visit my family for Thanksgiving, a trip I have not had to do in a long while, since I lived in Maine for the past 10 years. I always begin my trip with slight anxiety about potential issues because of my dependence on planes, trains, and automobiles, but alas, I was lucky, and ran into zero "technical" issues during my travels. And, it is always great to see the family...like old times! But, I have to share my experience on the trip back, and conlclude with some travel tips to live live by.
My return home started at 2:30 PM EST with a ride from my brother's to the bus station (Portland, ME), where I would hope a ride to Logan (Concord Trailways has a non-stop bus from Portland to Logan for $25, can't best it.) The bus ride was a piece of cake, but I had two hours to burn before my flight. No problem, find a restaurant, grab a bite, and read my book (Dean Koontz, The Husband, great read.). Not so easy to do if you know Logan at all. It has to be one of the least accommodating airports in the East. While I patiently waited for a place to sit at the only restaurant near my gate, I could not help but listen to some conversations…one from a group of business travelers spelled it out the best, "Logan sucks." I had to chuckle at his insight, and resentment for having to connect flights in Beantown.
Before too long, I was able to snake a seat, just before someone else was beginning an attempt to land the real estate. After a good beer (Sam Adams, you have to when you're in Boston. It is a law or something.), a horrible burger, and a small tab, I ventured off for a quite spot to read. One hour 'til boarding, or so the boarding pass says.
As I close my book, pack up, and mosey to gate in preparation to board my flight home to Chicago, I look for the plane…good sign…it is here. Supposedly the plane actually came in early…yes, early…a rare occurrence in the world of flying. But, for some reason we were not boarding…they had to clean the plane. It is funny how many times I have heard that and then I get to my seat and there is trash in the slot thingy that holds the Skymall magazine, and the world's least read print item, the "in case of emergency" card. I imagine this plane must have been some dirty, because we boarded 30 minutes late, no worries, they can make that up in the air…opps, no they can't, we are flying into the air stream. I decide to check into an upgrade to first class. As an AA Advantage member, I get upgrades ever now and then, but they wanted $70 for the upgrade, so I inquired to see of the flight was full, "We have 120 seats, and 97 passengers." Sweet, I have a chance of sitting by myself, no such luck.
While my neighbor was quite cordial, and quite, I was not so fortunate with the passenger in front of me (business man, who I swear he had a special seat that reclined to practically 180 degrees), and behind me, a little kid, seemingly cute and funny. He actually started out funny, "Who farted," he blurted out and the plane erupted in laughter (It was not me). Fortunately, he blamed his dad, and repeated, "Daddy farted" 3 or 4 times. The plan was laughing hysterically. Dad did not seem amused. After the farts subsided, it was time to takeoff, Chicago here I come.
So, the funny kid loved kicking my seat. So, I would do the 'ole turnaround and the dad would apologize and tell the kid to stop, and it would, for about 5 minutes. But, the kicking was a million time more pleasant than what was about to ensue. And, as soon as the ears popped, the crying came, and 3 hours of it. Sometimes it was soft, but sometimes it was like being stabbed in the kidney with a dull spoon. So, I put my book away, pulled out the iPod and cranked the music…it helped, but this kid had lungs.
For while, I was perturbed, but then I had to laugh…these poor parents. This kid was screaming bloody murder at some points during the flight, and heads would turn, eyes would dart…no onecaught a wink, I guarantee that. The dad did have one thing to say, "Geez...we flew to Puerto Rico and they were great." Just my luck, I was on the wrong flight.
Holiday Travel Tips:
Use Kayak.com to find the best deals on airfare.
Upgrade to first class if you see an potential flying hazards, the peace is worth the cost.
Stay away from Logan if at all possible.
Don't bother brining any liquids...they change the rules daily.
If you have to take a few different means of transportation, coordinate way in advance.
Purchase those cool head phones from Bose that block out sound.
Ship your gifts, or better yet, do your shopping online and opt for gift wrapping and shipping.
Carry on baggage. There is nothing worse than waiting for bags after a long day of travel.
When you reach your final destination, drop your bags, take your shoes and socks off, wash your feet, hands and face, and relax.
Happy Holiday, and safe travels, check out this click Christmas song by Nat King Cole.