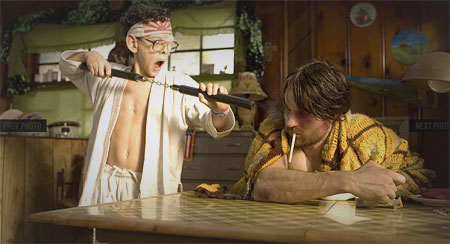 Seems the most difficult thing to do today is entertain an audience…believability is a non-issue at this point, as the influx of mass media messaging has shaped our brains to value entertainment over truth. Why else do we go to the movies?
Smoking Aces was quite entertaining; great violence, great cinematography, and a unique story…love mob-type movies. The best part of the movie was all of the subplots that pushed the mind to think about the stories behind the stories. This is a very difficult task when developing a storyline, as quite often the audience can get lost…we have all seen David Lynch movies, although is not his goal to keep the audience informed. Joe Carnahan was able to pull this off.
The main reason I gave this 3 stars as opposed to 4 or 5, was the ending. Joe Carnahan tried to hard to pull a grand twist at the end. While he did fill in the blanks, he did not give enough validity to the idea. But, I will see it again when it comes to DVD.
My suggestion, go see it.
Interesting tidbit: the karate kid in the above photo did a phenomenal job! He stole the screen whenever he was on.