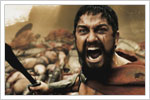 This epic story of 300 Spartans fighting for their freedom against a seemingly indestructible Persian army illustrates the discipline and poise of these ancient soldiers. As well, it created a curiosity in me to learn more about soldiers of Sparta, Greece.
Right from the start, the film defines the essence of a Spartan displaying the process of sacrifice for boys born below the standard of a potential warrior; then leading to the brutal combat training of a boy of only seven years. The cinematography captures the spirit of the warrior through his eyes, as the young boy wipes blood from his mouth and squares up to his formidable opponent, a full fledged Spartan that refused to hold back. This young boy soon became King Leonidas and bared the honor of a Spartan...never retreat.
While the trailer of the movie seemed to attract those looking for violence and gore, in essence it captured a piece of history of a culture that was defined by its integrity, brutality, and passion for freedom. The Spartans were proud people, defined by their ability to fight and their ruthless candor. The film depicts this beautifully, as one scene shows the Spartan soldiers building a wall with bodies as there rocks...sweet!
The continuous message throughout the movie was don't mess with a Spartan. Before finally falling, the 300 Spartans disposed of thousands of the Persian army's soldiers. Their unique fighting style, unrelenting butchery, and teamwork proved to be far superior than those of their enemies. If it were not for one jealous traitor, the Spartans would have surely denied their enemy.
Disclaimer: the movie is quite gory, so if you have a weak stomach then perhaps you should read the Frank Miller novel.