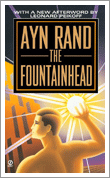 To put in words the complexity of this book of words is a daunting task. Ayn Rand is not only a brilliant writer, but an ingenious philosopher as well. Published in 1943, The Fountainhead received immediate worldwide acclaim for its daringly literary vision. Ayn Rand concocted a perfect method to infuse her beliefs into mainstream society.
This classic novel is a champion depiction of man's violent struggle to maintain his mores while encompassed by conventional standards. A modern day Socrates, Howard Roark battles through the narrow vision of society, and paves the way for a unique view and artistry; all the while, having a steamy love affair with a prominent, beautiful woman who's only desire is to crush him.
Page after page, Ayn Rand delivers crisp character descriptions and scenery. Her ability to capture the essence of a character through words is paramount. I often laughed aloud as I could feel the character through only a few strokes of copy.
If you are looking for a challenge, need something inspiring to read, or just have the desire to be wowed through words, pick this up. If you have read it before, read it again…I plan on doing the same.