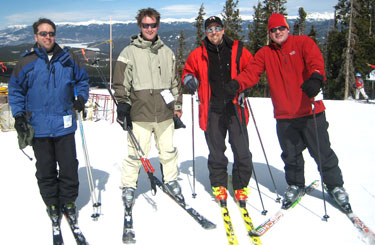 Winter in Chicago is rough; bitter winds, low temps, and the constant yearning for a break. If you are looking to escape the perils of city life in Chicago and reconnect with your inner cave man, hit the slopes with your boys. A beach vacation is nice, but hitting the Rocky Mountains is a challenge, and one to share with good friends.
Getting to and from Breckenridge, CO from Chicago, $300; staying in a killer condo on a pullout couch, $450; skiing for three days, $240; eating horrible (and expensive) slope-side lunches that will be sure to turn your whistle into a trumpet, $20/lunch; hanging with your boys for 5 days—PRICELESS. My crew and I could not have chosen a better weekend (mid-March) to hit Colorado for a skip trip. With temps in the 60s for most of the trip, swooshing down the slopes was heaven, and the mid-mountain lodges were perfect for afternoon beers in the sun while live bands strummed perfect "Rocky Mountain" tunes.
While Breckenridge is not the best destination in Colorado for nightlife, it does host a few great restaurants and a huge brewery that is sure to satisfy your entertainment needs. Keep in mind, you will not be out too late…with the altitude factor and your fried legs from killing moguls all day, you will be hitting the hay early so you can rise the next morning, fresh and ready to tackle the mountain.
Tips and Tricks in Breckenridge
Lodging: it is essential to stay near the town and the mountain. The Corral is the perfect spot; steps to each.
To bring your skis or not: I rented, though I suggest you go for the "demo" package, as my skis had a mind of their own sometimes. Best place to rent, Avalanche.
Food and Drink: get your drink and groceries outside of town. If you are coming in from Denver without a rental car, flip your shuttle driver a 10-spot and have him stop on the way.
Tickets: $81/day. Expensive. Many stores along the way sell discount ski passes; hit 'em up.
Lunch on the mountain: if you can, stay away from eating on the mountain. The prices are outrageous, and the food is horrible. Packing a lunch is your best bet.
Nightlife: this is relative, my crew is in their 30s, so sometimes the scene can be a little young, but the Breckenridge Brewery proved to be a good spot.
Nice Dinner: be sure to hit the Cellar. While it is quite expensive, it is worth. NOTE: you're in the Rockies, don't order seafood.
SPF: If you do not want a half moon on your forehead (like mine) apply 30 SPF a few times a day. The rays are strong in the mountains, and while you may think the raccoon look is cool, once you get back to Chicago you will wish you carried some Bulldog.
A quick jaunt outside of Chicago is always a great way to recharge the batteries. Basking in the sun on a beach in Mexico is fine and dandy, but if you want your girlfriend to agree to a guys trip, a ski trip is the easiest sell.