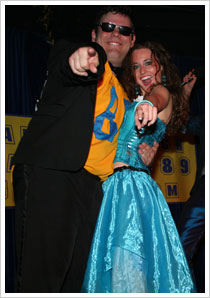 So, like, as if this isn't the most awesome show in Chicago.
Located at Fremont and Weed, this 80s club/Awesome 80s Prom venue is worth the short ride outside of downtown; perfect for parties, a break from the typical downtown scene, or satisfying your nostalgic needs.
As I walked in, a smile immediately formed as patrons and actors alike were decked out in 80s garb, roaming throughout the Prom venue. Complete with the BMOC, the nerd, the cheerleader, and the loud fat guy, the 80s Prom actors pulled out all of the stops to ensure an authentic experience.
The event was a blast (especially when Scott E would scream out expletives at the head cheerleader), but the best part was when I got pulled on stage as, "Jimmy-one-nut" the defensive back that blocked a field goal with his crotch. I think the ladies were digging Jimmy-one-nut, as my butt got smacked a few times when the train was making its way around me.
All in all, if you are looking for a totally awesome to the max event, and need a break from the same ole' Chicago scene, check out Awesome 80s Prom. The key to kicking it up a notch is dressing 80s prom and bringing many friends! Oh yea, and see how many 80s movie references you can identify!

Photo Gallery