By: Scott Emery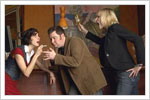 SHOWTIMES: Fridays and Saturdays 9:30! Directions | Tickets

If you are in Chicago, if you like to drink alcohol, and if you like to have fun, then you will like the Chicago drinking play Bye Bye Liver. Bye Bye Liver is an interactive comedy play that takes place at the Seven's Cabaret at the Chicago Center for the Performing Arts, and shows start at 9 PM . The play centers on all the usual things you have witnessed at all the bars you have ever been to; hilarious performance.
Bring Mark Cuban to Chicago: CUBAN AND THE CUBS

We headed to Bye Bye Liver on Saturday night and to be honest I had no idea what to expect. The play itself was only a little more than an hour long and as I said it was funny, but the best part of the night was the ambiance and energy that was flowing through the crowd. The event, formerly BYOB, now offers drink specials ($8 buckets of beer and $3 well drinks), and the small theater is sure to be packed with Chicagoans who have well-begun their drinking, wherever they were, and will continued fortuitous to drink, laugh, and have fun throughout the night; utter blast!
The rule of the show is that when the lights are down the play is on, and when the lights come up it is time for audience participation drinking games! Not that the audience needs any incentive to drink, but the games get the crowd loud and involved. The best thing about the night was that everybody who was there was there to have fun and this produced a real cool vibe within the theater. By the time the show was over we had laughed, we had drank, and we had had a really good time.
Bye Bye Liver begins at 11:30 PM and only costs $15.00. Once the event is over, head to your favorite Chicago Bar or you could check out a venue reviewed by NowinChicago.com, in order to keep the good times rolling. If you are interested, you can go to ByeByeLiver.com for more information. Enjoy...