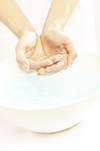 I have always been puzzled by the etiquette of washing your hands after you use the bathroom. Shouldn't you wash your hands before (and after) you use the bathroom? For example, washing your hands before you eat is a common practice. Is it not the same? Your hands could be quite filthy, and then you are going to handle certain delicate areas...I need to do something about this.
My quest began with some indepth research. While I was suprised at the plethora of resources for hand washing practices, I must say I was utterly disappointed to not discover one resource supporting the washing of hands before using the facility. Regardless, I did find some great data, but I will need to start my own coalition, The Coalition for Handling Privates With Clean Hands, CHPCH for short. Got a nice ring to it, uh?

Before I present my findings, I have to share one finding from the International Center for Bathroom Etiquette, "An important note: It is NOT considered proper etiquette to enquire to a peeing person if he is almost done. Nor is it seemly to attempt to peek in the urinal for activity. If you suspect the patron is merely standing around with his fly open, it is usually best just to keep those suspicions to yourself." Profound, I was not aware of this one. I thought if the pressure was strong enough, anything goes, even pushing a "slow-goer" out of the way. Especially at sporting events. I don't know about the ladies room, but the mens room is a battlefield. Enough banter. Let's get on with the facts. Use these resources with discretion until I launch my new coalition. While some resources are thorough, you can never trust a resource that does not stress the importance of wahsing your hands before and after using the washroom.
My findings/resources:
Best of luck in your quest for cleaner, safer hands...and change the world, one wash at a time.